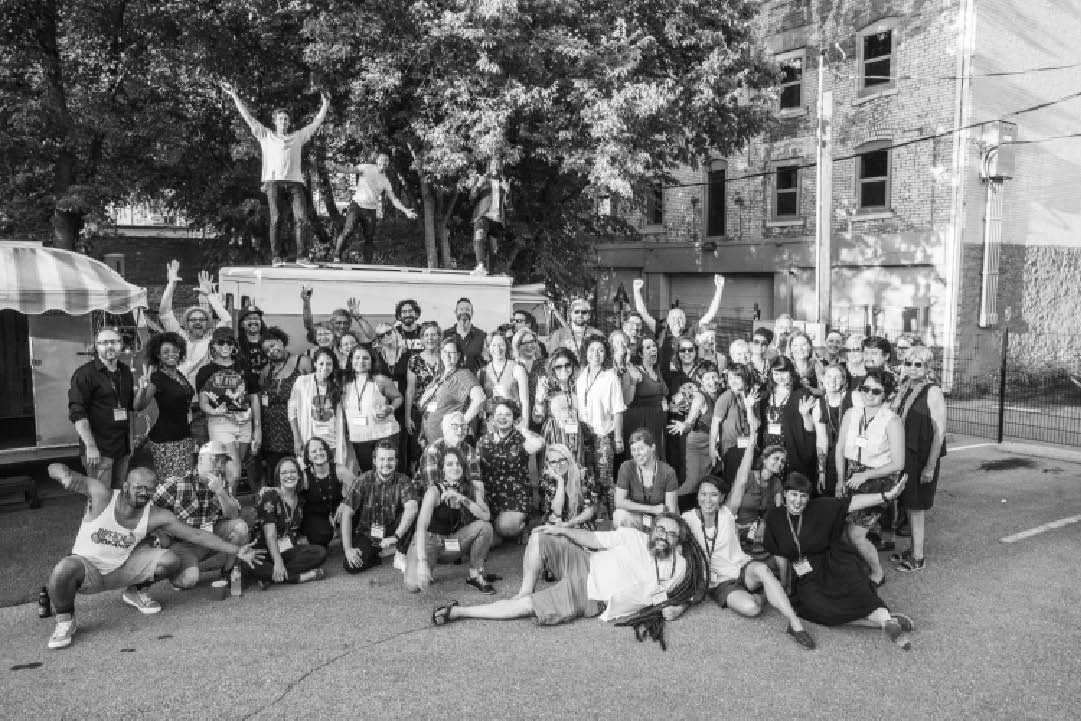 Artist INC is of, by, and for artists of all disciplines. With enduring gratitude, Artist INC acknowledges the immeasurable contributions of the artists, facilitators, staff, and partner organizations over the past decade who have believed in the power of professional development for artists and who have collectively envisioned, developed, and shaped our course.
Facilitators (KC): Beau Bledsoe, Chris Dahlquist, Jose Faus, Sarah Hearn, Erica Iman, Cory Imig, Kathy Liao, Erin McGrane, Kyle Mullins, David Wayne Reed, and Phil Shafer.
Facilitator Emeritus (KC): Nathan Granner, Jeff Harshbarger, Lisa Marie Evans, Grant Miller, Larry Thomas, Kati Toivanen, and Vi Tran.
Staff: Diane Scott (Founder), Lisa Cordes, Puce Felling, Cory Imig, Sarah Hearn, Kathy Liao, and David Wayne Reed.
Founding Steering Committee: David Hughes (Charlotte Street Foundation), Stanley Banks (Avila University), Harlan Brownlee (Arts KC), Mary Kennedy (Mid-America Arts Alliance), Jim Koeneman (Francis Family Foundation), David Lady (Muriel McBrien Kauffman Foundation), Robert Long (Economic Development Corporation-KC), Maria Meyers (UMKC Innovation Center), David Oliver (Arts KC), Saralyn Reece Hardy (Spencer Museum), Miguel Rivera (Kansas City Art Institute), and Peter Witte (UMKC Conservatory).
Partner Organizations: ahha (Tulsa, OK), Amplify Arts (Omaha, NE), The Argenta Arts Foundation (Argenta, AR), Arts Center of the Ozarks (Springdale, AR), The City of Austin's: Cultural Arts Division, the Small Business Program, and the Economic Development Division (Austin, TX), Fresh Arts (Houston, TX), Harvester Arts (Wichita, KS), Lawrence Arts Center (Lawrence, KS), Mid-America Arts Alliance (Kansas City, MO), Northwest Arts Council (Bentonville, AR), and Oklahoma Visual Arts Coalition (Oklahoma City, OK).
Artist INC is generously funded by Mid-America Arts Alliance, the National Endowment for the Arts, the Windgate Charitable Foundation, Ewing Marion Kauffman Foundation, Emily Hall Tremaine Foundation, additional regional funders, and the state arts agencies of Arkansas, Kansas, Missouri, Nebraska, Oklahoma, and Texas. Special acknowledgement also is extended to Arts KC, Charlotte Street Foundation, and the UMKC Innovation Center, founding members of Artist INC.
Special thanks to Paul Tyler who played an integral role in shepherding the development of this program.
Thank you for making art work.